The COVID-19 pandemic has dramatically changed how modern workplaces operate and has shown that they need to be flexible. Many industries had to adapt quickly to accommodate ever changing lockdown restrictions and climates overnight; the main change being the introduction of working from home.
​
Other issues have been exposed and amplified during the pandemic, such as the ever increasing skills gap thanks to redundancies and early retirements, and tightened budgets to business navigate the challenges that came with coronavirus.
As the industry continues to adapt to this 'new normal', there's more competition than ever before - from both a client and employee perspective. As a result, business owners, managers and HR need to make sure they're investing in current employees and understanding their needs and wants in order to hold on to as much experience as they can.
To give you an edge over the competition, we have undertaken an extensive study on LinkedIn across a range of jobs in the General Insurance, Financial Services and Legal sectors to see the state of the industry, specifically looking at how working from home has impacted the workforce, and their expectations moving forward. So, sit down, grab a cuppa and dive right in.
​
63% of employees prefer to work from home
Despite 63% of employees stating they prefer to work from home (WFH), less than 5% of all job vacancies in the UK are advertised as fully remote.
​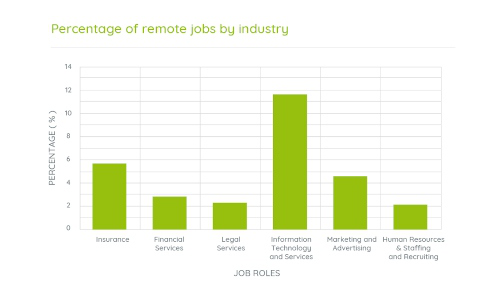 With nearly two thirds of candidates reporting that they prefer working from home, continuing to offer remote working to existing and new employees could have many benefits.
WFH can offer a better work/life balance, with many reporting increased productivity and not to mention the positive impact it can have on the environment and finances due to reduced commuting. In some instances, people can also spend more time with their family members.
However, we should not discredit the 37% of employees that prefer being in an office environment. Meetings and business pitches are a lot more personable when done face to face rather than through a screen. The social element that comes with an office also shouldn't be ignored for both personal development, professional training and for an individual's mental health.
Splitting work and home life is definitely easier with a designated office space and simple issues that can be solved by talking to your colleague in person, rather than waiting for a reply to an email or message also speeds things along.
​
Financial Services and Legal aren't offering as many remote roles
Of industries surveyed, Information Technology and Services had the highest percentage of fully remote jobs, followed by Insurance then Marketing and Advertising. Human Resources, Staffing and Recruitment, Financial Services and Legal came out below average in this area.
This suggests that jobs that thrive through face to face interactions or that generally deal with sensitive information have struggled to adapt to remote working environments.
​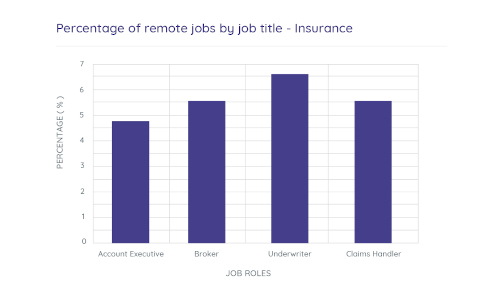 ​
This is understandable as the internet has made fixing IT issues remotely very easy and sustainable. Online security has always been a concern for businesses, and this can be alleviated by simply keeping all information in one place. It's also worth noting that these industries may not be entirely office-based either.
​
Less than 3% of Financial Services jobs are advertised as fully remote
​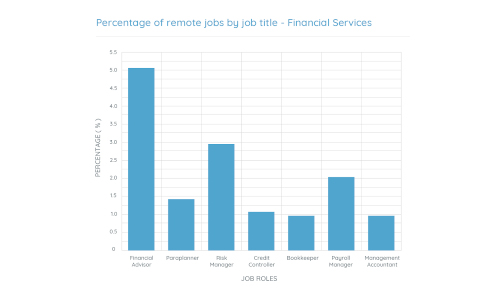 Less than 3% of Financial Services jobs are advertised as fully remote, despite 67% of employees saying they would prefer to work from home most of the time (IDEX survey of 1000 Financial Services candidates, 2020). In the same survey, 23% said they would consider a new role if they were asked to return to the office full-time.
During lockdown periods, many employees got comfortable with working from home, with many adapting their living arrangements to accommodate for this. The survey has shown that two out of three prefer working from home and that one in four employees would consider leaving their current roles if asked to go back to an office full-time.
This could be a massive hit to an already stretched industry and could easily be avoided by discussing a flexible working policy with your teams. This isn't necessarily a loyalty issue but more that to 1 in 4 employees, the benefits of WFH part time outweigh working full-time in an office. Many have done a lot to cater for their businesses, so the businesses should consider catering for them too.
​
The perception of the Legal sector is changing
Though the Legal sector is behind when it comes to remote working, it has escaped some of the stereotypes of being a London-centric industry, with more jobs than average in Birmingham, Manchester and Cardiff. Solicitors are most likely to find work outside the capital.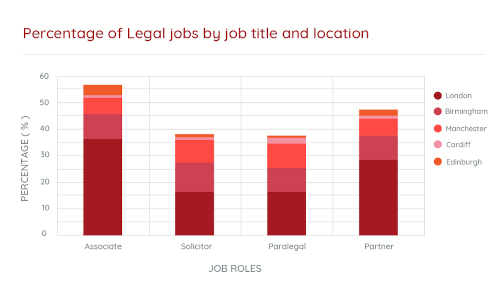 With cost of living being a major factor in employees preferring to WFH, relocating to some is a sensible option. With the Legal sector in the UK expanding outside of London, capital based firms should consider flexible working and employee welfare as a top priority in order to not lose their workforce to other emerging cities where they are more likely to find work.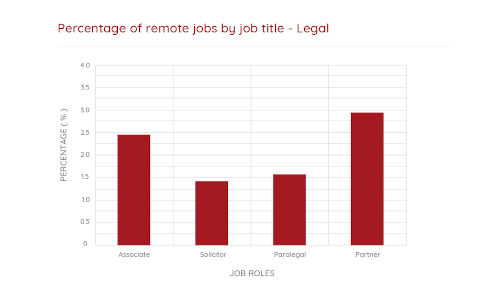 ​
With these in mind, it's worth evaluating your own position on the matter and seeing what your company is doing to accommodate your own personal preferences with regards to remote working and working from home. Are they doing enough? Are they listening to your concerns? Or are they blindly leading you back into the office without any consideration?
If you are considering a move or change, we've got more than 7 years' experience in recruiting in the General Insurance, Financial Services and Legal industries. Send us your CV and find your next role today.
​
For this study, IDEX used a LinkedIn Jobs search to find the number of jobs being advertised for a variety of job titles and locations. All data was accessed on 23/06/2021. Full data and methodology can be found here.